Nalgene™ Sedimentiergerätesatz
95,10 € for 1 piece (minimum purchase: 4 piece) plus VAT (21%) plus shipping costs
---
Assortment:

Thermo Scientific - Laboratory Plastics

Article-No:

1010-0507

Catalogue-No:

108710101

Category No.:

90700613

Package:

4 piece

Validity:

31.12.2021

Last Update:

03.05.2021

Similar articles:

Show (2)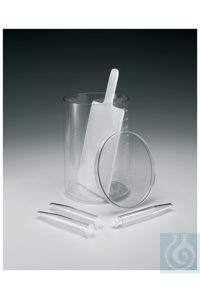 The picture may be different from the article and can include supply, which is not in the standard scope.
NALGENE-Sedimentiergerätesatz bestehend aus Dose mit Deckel (Polycarbonat); Schaufel (Polypropylen), 10 konische 15 ml- Zentrifugenröhrchen aus Polycarbonat mit Polypropylen-Verschlüssen, sowie einer Anleitung und einem Datenblatt.
Ein wertvolles Werkzeug für Betreiber von Kläranlagen. Preisgünstiger als Glas. Sedimentier- und Zentrifugentests für die Schlammqualität werden bei der Analyse des aktivierten Schlammablagerungsprozesses verwendet.  
Eigenschaften:
Das 2 Liter-Gefäß ist leicht, transparent, extrem stoßfest und hat eine leicht ablesbare weiße Graduierung.
Die spezielle Schaufel ermöglicht Bewegungen der Proben, ohne das Gefäß zu zerkratzen.
Die nicht splitternden Zentrifugenröhrchen haben ein eingearbeitete Graduierung sind für Tisch-Zentrifugen und  widerstehen Kräften bis zu 6.000 x g ohne Hilfen oder Adapter. Es besteht keine Gefahr für den Anwender oder die Zentrifuge durch Glassplitter. 
Alle Komponenten des Satzes sind chemikalienbeständig gegen "normale" Schlammproben (pH-Bereich
3 bis 10)
Bestellinformationen:
Gefässgrösse, ca.: AD × H: 13,2 × 19,1 cm
Röhrchengrösse, AD × H: 1,7 × 11,9 cm)
Ersatzglas und Deckel erhältlich unter Best.-Nr. Nr. 711010-9507
Inhalt:
Dose und Deckel (Polycarbonat)
Schaufel (Polypropylen)
Zehn konische 15 ml-Zentrifugenröhrchen aus Polycarbonat mit Polypropylen-Verschlüssen
Anleitung
Datenblatt
Garantie: 90 Tage
Bezeichnung: ob Settlometer
Höhe (angloamerikanisch): 7,5 Zoll
Höhe Röhrchen (angloamerikanisch): 4.7 in.
Höhe Schlauch (metrisch): 119mm
Verschlussmaterial: Polypropylen
Außendurchmesser (angloamerikanisch): 5.2 in.
Außendurchmesser Röhrchen (angloamerikanisch): 0,6 Zoll
Außendurchmesser Röhrchen (metrisch): 17mm
Artikelbeschreibung: ob Settlometer
Zertifizierungen/Konformität: Kit has been evaluated by the National Training and Operational Technology Center (NTOTC) of the U.S. EPA and has been determined to yield results equivalent to the equipment NTOTC has used in the past.
Typ: Settlometer